New Patients at Spinal Health Chiropractic Centre
We want every patient to have the best experience possible and embrace chiropractic care as a process for achieving lasting health, rather than a quick-fix for pain relief. We start by valuing your time and making things as convenient as possible. Our new patient forms are available online, so you can complete them before coming to your first appointment.
Your First Visit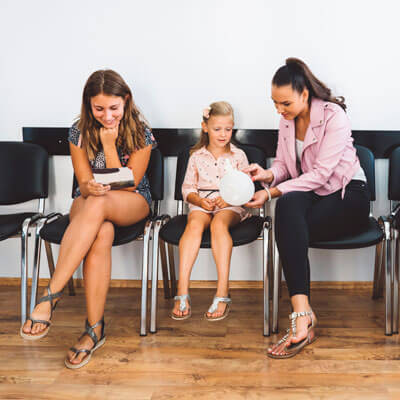 When you come to Spinal Health Chiropractic Centre, we'll greet you warmly and welcome you to the practice. For the first fifteen minutes or more, you'll be talking with your doctor, who will take the time to listen and ask questions in an effort to understand what's been going on with your health. We want to get to the underlying cause of whatever's causing you pain.
Next, we'll conduct a thorough examination, including INSiGHT™ scanning technology. These scans are painless, and they allow us to locate areas of stress that have accumulated in the nervous system. By pinpointing these areas, we are able to develop a care plan for your specific needs and goals.
Your Second and Third Visit
At your next appointment, we'll go over the results with you, step by step, so we can help you understand what's going on in your body and connect that with how you've been feeling. Then you'll receive your first adjustment. We take our time guiding our patients and educating them, and letting them be heard.
On your third visit we discuss how your body responded to the adjustment and continue with your care plan should you choose to.
Many patients have been told that there's nothing wrong with them, so when we're able to identify the cause of their condition and provide a means of correcting it, it empowers them to take ownership of their own health.
Our Techniques
We offer a variety of adjusting techniques, which we can tailor and adapt to each patient's needs and preferences. We use different techniques on infants and children than we use for adults. Some of our techniques include:
Activator Methods®
Diversified
Gonstead
Thompson drop
Contact Us Today
Get started with care today. Contact us to schedule.
CONTACT US

New Patients at Spinal Health Chiropractic Centre | 0768 424 476